The website contains extensive information including condominium legal documents, policies, newsletters, name and address listings, Board and committee members, Board meeting minutes, maintenance, homes for sale, and more. Full website access is available to co-owners who sign-on using their assigned login name and password. These can be obtained by contacting earhartvillage@aol.com.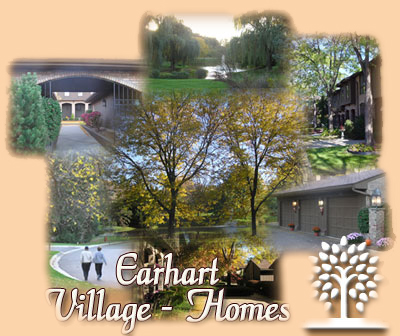 EARHART VILLAGE
Earhart Village is an attractive condominium community of 174 units. It is located in northeast Ann Arbor, on Greenhills Drive, a semi-circular street just off Earhart Road, between Plymouth Road and Geddes Road. Just west of US-23, Earhart Village grounds provide a sense of calm and quiet. The property has extensive open space and is hilly and green with mature trees and vegetation. There is a small pond with geese, ducks and an occasional visit from a blue heron. Deer and other wildlife have been seen as well. There is a city nature park across Earhart Road and the woodland area along the northern border of Earhart Village is protected from disturbance with a conservation easement.
Nearby Facilities
Several colleges and universities are nearby, including the University of Michigan, Eastern Michigan University, Concordia University and Washtenaw Community College. Hospitals, nursing facilities and major industrial parks are also nearby. In the neighborhood are Domino's Farms, Toyota Technical Center, NSF International, NSK Corporation and Conway Freight. Schools within walking distance include Greenhills School, Martin Luther King School and St. Paul's School. Shopping and recreational opportunities are found easily in the area, with a Buschs grocery, CVS, UPS store and Chase Bank nearby.
Area History
The Earhart Village Homes are situated on land previously owned and farmed by the Earhart family. In 1917, Harry Earhart, who owned Great Lakes Ships and White Star Refining Company, purchased 300 acres of land just north of the Huron River, Geddes Road and Gallup Park. Initially, the Earhart family lived in a farmhouse but soon began construction of a large, elegant, and progressive-for-the-times English-style manor house. Earhart Manor now houses the administrative offices of Concordia University.
Initial Development
The Earhart Village condominiums, developed by Woodbury & Sullivan-Smith, were built in the early 1970's and won an award for design. Several models were available for viewing, each decorated in a different style. Earhart Road, now a smooth thoroughfare, was still unpaved and rutted as recently as 1977. It was much like the now-paved short stretch just south of Plymouth road, now called "Old Earhart Road," still a pleasant place to jog, bike or walk a dog.
Architecture and Amenities
There are seven unit styles, each exhibiting a distinctive version of neo-Italian architecture. The Valencia, the smallest, is a one-story ranch-type unit also called the Atrium model because of its open atrium design. Other units, the Capri, the Granada, the Genoa, the Verona, the Majorca (2 versions), and the Tuscany, are all two-story homes with 2, 3 or 4 bedrooms. All units have basements and detached one-car garages. Over the years, many Earhart Village co-owners have made significant investments in interior upgrades and renovation, enhancing the attractiveness and value of their units. Earhart Village property values have appreciated significantly since the original construction. A valuable amenity within the Village is a clubhouse with spacious meeting rooms and a kitchen. A heated pool is open from Memorial Day to Labor Day and tennis courts at Greenhills School are available to Earhart residents.
Condominium Association
The Earhart Village Board of Directors, consisting of nine elected co-owners, directs community affairs. Its monthly meetings are open to all co-owners, providing an opportunity for direct communication with the Board. The Board is responsible for administering Association policies and regulations and for maintaining Village properties. A management company oversees day-to-day operations. Co-owners are encouraged to participate on committees, sharing the responsibility. Town hall-type meetings are scheduled periodically to discuss significant issues. A spirit of cooperation and courtesy is encouraged within the community.
Community Services
A monthly newsletter and a the website provide information about issues and happenings within the community. A resident handbook is provided to each new co-owner and is filled with important, useful and simply interesting information. The monthly Association fee includes water/sewer, fire insurance on the buildings, and property management services such as mowing, snow removal, and exterior maintenance and repairs.
The Residents
Most important, however, are the people of Earhart Village. They include attorneys, University of Michigan staff and businesspersons. They include teachers, nurses, counselors and social workers. They include high-tech people and artistic people, retired folks and young families, singles and couples, people representing many cultures. They are truly a diverse group, coming from all walks of life.
All in all, Earhart Village is a lovely place to live, in an attractive setting, with interesting neighbors and convenient access to education, medical facilities, research, business opportunities, shopping, recreation and transportation!
Copyright © 1998-2023 AtHomeNet, Inc. All rights reserved.
This site is provided by AtHomeNet